American Airlines Tightens Leash On Emotional Support Animal Policy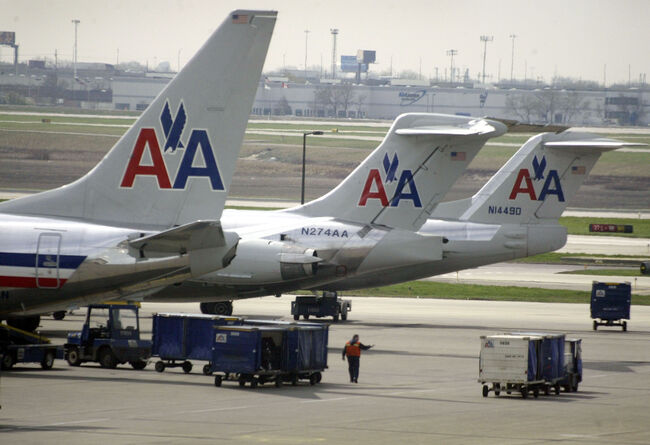 American Airlines has tightened the leash on its emotional support animal policy for its flights across the U.S. The airline joins several other major carriers who have begun racheting down on what kind of pets can qualify as comfort animals.
According to the new guidelines issued by American, the airline will no longer recognize the following animals as comfort pets: goats, ferrets, insects, snakes, hedgehogs, amphibians, reptiles, rodents, snakes, spiders and sugar gliders. Non-household birds, like "farm poultry, waterfowl, game birds, and birds of prey," as well as "animals with tusks, horns or hooves," will also be banned from flights.
In a blog post announcing the shift in policy, the airline cited a 40 percent increase in passengers bringing their animals on-board with them during their flights between 2016 and 2017 as the reason for the change.
"Prior to enacting these changes to our animal policy, American met with a number of disability groups to get their input, including American Association of People with Disabilities, Paralyzed Veterans of America, American Council for the Blind and My Blind Spot," the airline wrote. "At American, we want to have policies and procedures in place that protect our team members and our customers who have a real need for a trained service or support animal. We appreciate the dialogue and partnership we have with these organizations."
The Fort Worth Airline says if passengers wish to bring an comfort animal with them on a flight, they must fill out a form at least 48 hours before their plane departs. The form requires the passenger provide the name and contact information of their mental health professional who can support the person's need for a service animal.
The pre-clearance form will also include a documentation validation by American Airlines from the mental health professional. Officials say accommodations will be made for travelers who are booking emergency travel within 48 hours of their departure.
Passengers must also promise the airline their comfort animal won't block the seats or aisles of the cabin and will not threaten the health and safety of their fellow fliers. For flights lasting longer than eight hours, passengers must also provide documentation that their pet won't defecate on the plane, or "do so in a way that doesn't create a health or sanitation issue."
Several major carriers like Delta and United Airlines have made changes to their emotional support policies following incidents with passengers bringing pets like hamsters or peacocks on-board their flights.
The new comfort animal policies for American Airlines go into effect on July 1st.
Photo: Getty Images